Past projects*
Latest news and comments*
* pages under construction
Contact:
Registered Charity No: 1157364

Website hosting by Media Orb Ltd.
Rose Finn-Kelcey's 'Angel' for St Paul's Bow Common

Art and Sacred Places - Creative Conversations

· Commissions exciting and innovative work from contemporary artists for sacred places
· Stimulates creative dialogue through encounters with art and the sacred
· Widens vision through education and participation

Curating Public Art with Art and Sacred Places

Thursday 14th and 21st April 2016, 10.30 - 17.00
City Lit, Keeley Street, Covent Garden, London, WC2B 4BA

By popular demand this amazing course has been extended to a two-day event to allow you a greater in-depth insight.

What relevance has contemporary art to sacred sites? Think you'd like to have a go at curating visual artwork? Or wanting to know the secrets of curatorial practice for sensitive sites? Then this inspirational, "action-packed" course is for you. Come see, hear, learn and participate.

Learn about practical and theoretical aspects of commissioning and curating public art, taught by members of the Art and Sacred Places' team.

To apply: Simply click on 'Art and design', 'Art history', 'Collecting and curating art', then click on our amazing course on the City Lit website.

£125 full fee: £101 senior fee: £78 concessions
All Welcome
Current Projects
Art & Sacred Places is pleased to announce its involvement in an exhibition taking place across London in 14 iconic destinations for Lent 2016.

A pilgrimage for art lovers

10 February (Ash Wednesday) - 28 March (Easter Monday)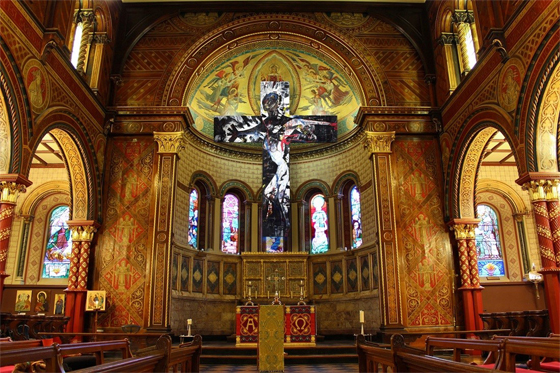 New Stations for a 'New Jerusalem'

This unique exhibition—held in 14 stations across London—uses works of art to tell the story of the Passion in a new way, for people of different faiths. In this pilgrimage for art lovers, viewers will travel across London, mapping the geography of the Holy Land onto the streets of a 'new Jerusalem.'

The Stations will weave through religious as well as secular spaces, from cathedrals to museums. The art on display will run the gamut from Old Master paintings to contemporary video installations. Artists will include Christians, Jews, Muslims, and atheists. Instead of easy answers, the Stations aim to provoke the passions: artistically, spiritually, and politically.

See the exhibition website for the latest news and information on all the artworks and their locations: