Contact:
Registered Charity No: 1157364

ARTISTS
The artists listed alphabetically below have worked with Art and Sacred Places in various capacities. The images, where provided, are of their personal work.
Abake is a partnership of four graphic designers. Patrick Lacey, Benjamin Reichen, Kajsa Stahl and Make Suzuki formed the association in July 2000, after graduating from the Royal College of Art, having accumulated a quarter of a century of design education between them. The obvious realisation that interesting content is a prerequisite to interesting design lead them to organise events often, but not exclusively, involving food or dancing. Their work is anything which has a story and telling it. They teach in London at the Royal College of Art and Central Saint Martins. Contact them by dialling +44(0)20 7249 2380. Abake ran a workshop on Spirituality for the Art and Sacred Places' AGM in 2007
Turner Prize nominee Nathan Coley was born in Glasgow in 1967. He studied Fine Art at Glasgow School of Art and is now based in Dundee. Nathan has exhibited worldwide including Show Home across the city of Newcastle upon Tyne and The Black Maria as part of The Christchurch Biennial, New Zealand as well as featuring in the major survey show of Scottish Art "Here and Now".

Nathan is interested in the way the values of a society are reflected in its built environment. As the stage upon which our lives unfold how does the architecture we are surrounded by determine our sense of what is possible? Throughout his practice Nathan has investigated the way that constructed spaces add meaning to our cultural identity. Nathan's past works have involved researching and responding to existing buildings such as the Tower of Belem and Jeronimo's Monastery in Portugal, both declared World Heritage by UNESCO, the fourteen Churches within Munster Germany, Bournville Rest House Birmingham, York Minster and the 161 Places of Worship listed within the yellow pages in Birmingham.

The project which best reflects Coley's practice in terms of context and research is his Urban Sanctuary: a public art work commissioned by Stills Gallery, Edinburgh in 1997.
Rose Finn-Kelcey's work has embraced an extraordinarily wide variety of media and styles including performance, sculpture, sound and a series of works using LED technology. References to the spiritual and the use of language are recurring motifs in her work and these themes are often explored within a public context by siting her moving/animated messages outdoors, in direct view of passers by. Through the use of subtle interventions, Kelcey subverts existing social mechanisms or conventions to portray an entirely different message, usually with witty and ironic results.

Rose Finn-Kelcey has a history of exhibiting in public spaces and buildings throughout London. Solo exhibitions include the Camden Arts Centre in 1997 and the Chisenhale Gallery in 1992. She has also exhibited 'a shot in the locker' at the Conventa X Teresa, Mexico City and 'Jolly God' at the Total Museum in Seoul, South Korea. In March 2001 she showed in 'Dead' at the Roundhouse, London. Her work is in the Welkunst Foundation, Bernard Starkman and the Arts Council of England Collections.

David Mach RA, born in Fife was a Turner Prize nominee in 1988. He is a Scottish sculptor and installation artist whose artistic style is based on flowing assemblages of mass-produced objects. Typicall these include magazines, vicious teddy bears, newspapers, car tyres, match sticks and coat hangers. His major works include Temple of Tyre in Edinburgh, the Sumo Wrestler, the Brick Train in Darlington, the Acropolis of magazines, the Big Heids off the M8 and the UK's Self Portrait - an epic collage, commissioned for the Millennium Dome.

His 2011 exhibition 'Precious Light' for Edinburgh City Arts, exploring the themes and legacy of the King James Bible in the year of its 400th anniversary, was his largest solo show to that date. Mach gave a talk about the exhibition for the 20121 ASP AGM.

Heather Peak, born in Desborough, Northamptonshire, and Ivan Morison, born in Istanbul, Turkey, together have an international practice which specialises in bringing together different peoples, cultures and histories in the creation of works of fantasy and escape. The rituals of sharing and exchange which they employ often involve random acts of kindness. They live and work in Brighton and North Wales.

I am so sorry. Goodbye, illustrated here, comprises two intersecting geodesic spheres, hand-built from wood harvested from naturally fallen trees in Tatton Park, and functions as shelter, observatory and performance space, where visitors are served tea. The Morisons' 'escape vehicle' unifies two acts, of making and use, in a way that can be read as a complex set of social rituals. It was commissioned by Tatton Park Biennial in 2008, and in 2009 was installed at the Barbican Centre.

The Morisons have created a new work to mark the launch of The Hepworth Wakefield. It takes the form of an outdoor shelter for people to gather, relax, entertain and enjoy the waterfront location. The Black Cloud, originally commissioned by Situations at the University of the West of England for Victoria Park, Bristol in 2009,.has been repositioned and modified in response to the architectural and industrial backdrop of The Hepworth Wakefield.

In addition to representing Wales at the 2007 Venice Biennale Heather and Ivan have exhibited their work as far afield as Tasmania, New York, Toronto and Vancouver. Other more local solo exhibitions and projects have taken place at the Bloomberg Space, Camden Arts, Ikon Gallery Birmingham and Void Derry in Northern Ireland. They are represented by Danielle Arnaud contemporary art.

John Newling was born in Birmingham and after completing MA and M.Phil degrees at Chelsea and Wolverhampton he was awarded the first Fulbright Fellowship in Visual Art in 1985.

During his time in America, Newling produced works in hotels, swimming pools, burnt out cars and on the streets of major cities. This experience marked the beginning of his enduring interest in notions of Place both in terms of cartography and context. This has generated many gallery based and site specific works.

Newling constantly reviews 'The tacit agreements of Place' and this has coalesced into a view of the pathology of institutions such as banks and churches. This process of review is the initial impetus for a work for a specific place.

With works installed across Europe and the USA including large scale commissions for, for example, the Post Office and The Inland Revenue Newling has an international reputation.. John Newling lives in Nottingham where he is currently Professor of Installation Sculpture at The Nottingham Trent University.

Mine, shown above, which was exhibited at St Mary Woolnoth, Lombard Street, City of London from 27th June to 13th July 2005 during the Art and Sacred Places' supported Insight series of exhibitions for the City of London Festival.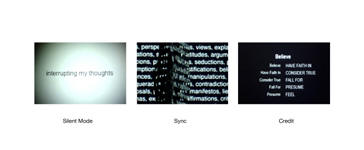 Claire Reed is a visual artist based in Surrey. At the heart of her inter-disciplinary practice is a curiosity about contemporary belief and value systems which finds expression through the interplay of words and image. In 2010 she exhibited work at 'Art in Romney March 2010', ' Bourne Hall Contemporary Arts Festival 2010'; Ewell; 'Fruition' at UCA, Farnham; and the Bargehouse, Oxo Tower Wharf, London. Claire has been Project Assistant for ASP since May 2010.
Duncan Whitley studied Music Technology at South Thames College in London, before going on to complete a BA in Fine Art Intermedia at Kingston-upon-Thames University, Surrey. Exhibitions include: Masterpoint curated by Artlab at the Imperial College, London, in 1999; Breaks and Pieces at the Stanley Picker Gallery, Kingston- Upon-Thames; Untitled Work for Headphones, a limited-edition audio compact disk published in 1999; I love Your Work at Hoxton House, London, 2001; Minimal Existence at the Isokon Flats, Belsize Park, London, 2001. Duncan Whitley currently lives and works in London.
Richard Wentworth was born in 1947 in Samoa. He worked as an assistant to Henry Moore in 1967 and went on to gain his MA from the Royal College of Art in 1970. He taught at Goldsmith's College between 1971-1987, and was awarded the Berlin DAAD Fellowship 1993/94. His work has been exhibited in institutions worldwide including the Hayward Gallery, London; Serpentine Gallery, London; Institute of Contemporary Art, Philadelphia; Irish Museum of Modern Art, Dublin; Musée d'Art Moderne de la Ville de Paris, Paris. In 1998 Richard Wentworth curated Thinking Aloud for the South Bank Centre and in 2000 he completed Gallery Square, a major commission for The New Art Gallery Walsall. Richard Wentworth lives and works in London. Having been the Master of Ruskin College, Oxford University, he is currently Head of Sculpture at the Royal College of Art.
Tamsin Williams graduated in Fine Art Printmaking from Brighton University in 1996. In 1999 she completed a certificate in Multimedia (Digital Arts) at the University of Sussex. Audio-visual installations include Epitaph for an Ephemerist in St Peter's Church, Brighton, 1999. Artist-in-residence projects include: the De La Warr Pavilion, Bexhill-on-Sea, February 2000, creating a web site from the public's responses to the Maximum Cube exhibition (www.lighthouse.org.uk/minimumcube/); Year of the Artist residency on Connex trains in May 2001 Familiar Strangers; artist-in-residence at Caterham School in Surrey 2001-2002. Tamsin Williams currently lives and works in Brighton, East Sussex.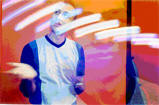 Ansuman Biswas was born in Calcutta, educated in England and has developed an international practice in a wide variety of contexts including music, film, live art, installation, writing and theatre. Over the last fifteen years this practice has encompassed directing Shakespeare in America, translating Tagore's poetry from the Bengali, making underwater sculptures in the Red Sea, living with wandering minstrels in India, being employed as an ornamental hermit in the English countryside, travelling with shamans in the Gobi Desert, working with neuroscientists in Arizona, touring with Björk, spending two days blindfolded on Exmoor, playing with Oasis, co-ordinating grassroots activists in Soweto, being sealed in a box for ten days with no food or light, making a musical in a maximum security prison, holding seminars with monks in a Burmese monastery, and flying on a magic carpet in Russia.
Daniel Coombs studied at the Ruskin School of Fine Art and Drawing, Oxford University, 1989-92, before completing an MA in Fine Art Painting at the Royal College of Art, London, in 1994. The following year he won the Rome Scholarship for Painting and spent one year at the British School at Rome. His early canvas-based works featured in the historic Young British Artists VI at the Saatchi Gallery in 1996. He has had three solo exhibitions at the Approach Gallery, London between 1997 - 2001, also at the Zwemmer Gallery London in 2000. He has been in many international shows including: The Death of the Death of Painting, Wooster Street New York, organised by Kenny Schachter and British Art Part 1: Installations, Diehl Vorderwuelbecke, Berlin 2000. Daniel Coombs currently lives and works in London.
Dion Ellis completed a BA (Hons) in Fine Art at Staffordshire University 1996 before going on to study for a certificate in Multimedia (Digital Arts) at the University of Sussex, 1999. Recent works include: Painted Lady, an interactive art work installed at the Fabrica Gallery in Brighton; Virtual Rosary, a CD-ROM exhibited within multimedia installations at the Gardner Arts Centre and the Pallant House Gallery. Ellis is director of Visibilia, an arts organisation working with video and new media and has made projects for the web sites of the Arts Council, The Towner Gallery, Eastbourne, and Pallant House, Chichester. Dion Ellis lives and works in Brighton.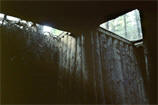 Elpida Hadzi-Vasileva was born in Macedonia but has lived and worked in the UK for eighteen years. She graduated from the GSA, Glasgow in 1996 and the RCA, London in 1998.

The fact that a large percentage of her country of origin is forest is reflected in an artistic practice which has the immediacy of nature as a significant element. With an original intensity and richness Hadzi-Vasileva's work exposes the relationships between the human and naturally occurring landscapes.

The use of unusual materials, such as chicken and fish skins, butter and rice, and new methods of working, which are often founded on traditional, work-intensive techniques, are the result of thorough research into particular places, especially those not normally encountered.

Hadzi-Vasileva's solo exhibitions include 'We Are Shadows' at Unit2', Whitechapel in London, 'Butterflies in the Stomach' at l'H du Siege in Valenciennes, 'Kilmainham Gaol Museum' in Dublin and 'Resort' for Fabrica in Brighton. She was shortlisted for the Spitalfields Sculpture Prize in 2009-10 and the Jerwood Sculpture Prize in 2001 and has received numerous awards, including the Pollock-Krasner Foundation Award in 2002. These have enabled her to travel as far afield as Canada and the USA. In 2009 she was awarded a grant by the European Cultural Foundation to travel to Macedonia with Dr Fiona Dean to share ideas between Macedonia and Scotland.

Deimantas Narkevicius was born in Utena, Lithuania in 1964. He lives and works in Vilnius. He has developed a facility for storytelling, using film as his chosen medium.

Narkevicius often switches back and forth between recollections of the past and experiences of the present day, using found footage in juxtaposition with his own film-making. His approach is reflective of the techniques and styles of amateur and professional documentary films made in his home country during
the 60s and 70s. The proximity between two sources of imagery makes the passing of time more evident and each film becomes defined both by its past and its present, lending additional weight to the narrative.

It is the relationship between subjects culled from personal memory and the wider historical context that creates a sense of familiarity and specificity in the content of his films. His protagonists are not presented as if their experiences are history lessons learnt. Their narratives trace the development of individuals' lives that would otherwise go without comment and
unnoticed within the broader spectrum of national and international events.

Dr Michael Pinsky, who was born in Scotland and lives and works in London, graduated from the Royal College of Art with an MA in Fine Art in 1995. His fluid explorations of humanity's connection to nature and the issues which shape our use of the public realm have resulted in challenging and innovative work which has been exhibited internationally.

The apparent simplicity of projects such as 'Weather Cluster' 2005, 'Horror Vacui' 2007 and 'L'Appât' (see image) belies Pinsky's more complex investigation, during the commissioning process, into the relationship between artistic intention and the local audience's appreciation of context. Playing with symbols, objects and actions Pinsky allows the ambiguities and tensions in the work to surface and bubble forming an imaginative re-invention of visual traditions.

In addition to numerous public art projects Pinsky has exhibited extensively in galleries and festivals such as TATE Britain, the Saatchi Gallery, the ICA London, BALTIC Gateshead, Centre for Contemporary Art Glasgow, Modern Art Oxford, John Hansard Gallery Southampton, Milton Keynes Gallery, Cornerhouse Manchester, Liverpool Biennial, Archilab Orleans, CCC Tours France, Armory Center of the Arts Los Angeles, and the Rotterdam International Architectural Biennial.

Jimmy Symonds' 'Lexicon' (see image) is his personal photographic journey through a dictionary. The box which houses 'Lexicon' contains 144 photographs each one illustrating a chosen word or phrase. Placed in alphabetical order, they are classified according to part of speech and date of first usage. 'Lexicon' is designed so that the number of photographs for each letter reflects actual lexicographic frequency in English.

Symonds is inspired by journeys, both literal and metaphorical; by the way in which a walk can connect seemingly disparate things, as a medieval wood may back onto an industrial estate. Likewise in a dictionary you can travel anywhere and everywhere and yet still find the narrative is maintained. For an artist, a dictionary can be a tool with which which to weave diverse experiences into a coherent whole. Dictionaries are liberating.

Around any corner something extraordinary may happen; this is what drives Symonds on as a photographer, and that curiosity also lies at the heart of a dictionary and this is why they are never finished, but ever-changing, always searching and brilliantly alive

Sam Winston began to use typography when he started to
write. He found writing incredibly difficult and its format restrictive. A fascination with language and a desire to use letterform to explore it followed.

Over the years this led to a series of outcomes (graphic projects; self publishing), but predominately, interest came from galleries and collectors: so the results began to be called artworks and artist's books.

His work is always about finding structures in already-existing language, whether it be inside the text, the typography, the
structure or the book itself. Most of the work revolves around the gap between 'looking' at an image and 'reading' a text.

Winston's typographic stories became widely collectable after he sold them through London's ICA. His books can now be found in the special collections of MoMA New York, Tate Galleries London, the Victoria & Albert Museum and the British Library.

Winston is also a visiting lecturer at The Royal College of Art and Camberwell College of Art. He has written for Baseline magazine and worked on design projects, e.g. the third Muse album, and typographic consultancy work for Ogilvy & Mather.