10 days Winchester - Creative Collisions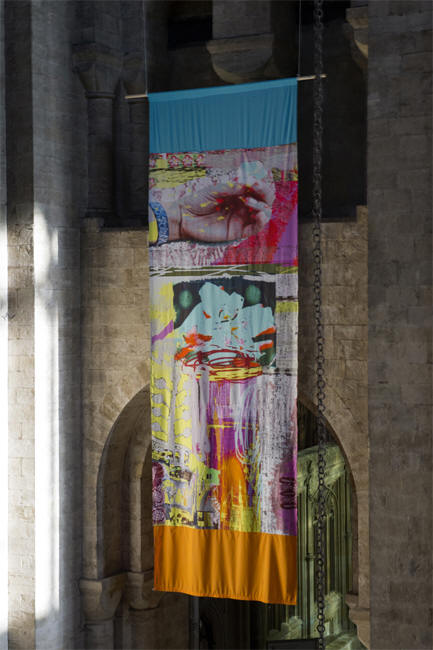 'Offering', Stephen Cooper and Alice Kettle, 2013. Image courtesy of the artists. Photo: Dave Gibbons
Project: Art and Sacred Places was proud to be a curator and steering group member for 10 days with special responsibility for Winchester Cathedral, working with 47 artists from all disciplines on 30 amazing projects ranging from installation to poetry, from body sculpture to sound, from dance to projection. Visitors were invited to hear a rain choir in the crypt, see statues come alive in the north transept, experience a silent conversation in the nave, see sumptuous textiles in the Fisherman's Chapel, and take part in book-making workshops and interactive performances. This is just a small selection of the intriguing work on offer. See the website for more details>>.

10 days in 2013 was a series of innovative, enterprising and challenging contemporary exhibitions, events and participatory projects across the Winchester district which take their inspiration from the idea of 'collision' as a means of opening a conversation, solving a problem, or sharing something new. 10 days was led by Artistic Director Trish Bould and a team of arts professionals from across the city including Angela Peagram, Project Director of Art and Sacred Places..

Comment: Arts Council spokesperson Jon Linstrum said: 'Winchester deserves its reputation as an artistic centre and 10 days is going from strength to strength giving local people and visitors experience of the very best creative practice from across the district.' The Revd Canon Dr Roly Riem, Vice-Dean and Canon Chancellor of Winchester Cathedral, "There is nothing wrong with a collision under controlled conditions. On the contrary, when they are planned in a creative spirit, with a sense that change is OK and that established views can be challenged, then these encounters release enormous excitement and energy." Caroline Hall, participating artist, "It was a great privilege and one that has taught me a huge amount - particularly when it comes to working 'live' on a project. I have been overwhelmed by the visitor response and also by the huge interest shown by everyone in the Cathedral."


'Humble Bees', Jane Price. 'Watching Over You', Caroline Hall. 'Silent Conversations', Belinda Mitchell and Eileen White. Photos: Dave Gibbons

Exhibition of '10 days Winchester Creative Collisions'
25th October to 3rd November 2013
in Winchester Cathedral and at Satellite venues across the city

Project funders and supporters: Supported using public funding by the National Lottery through Arts Council England, Hampshire County Council, Winchester City Council, Art and Sacred Places, the Universities of Winchester and Southampton and others.
http://www.10dayswinchester.org