Ansuman Biswas - A Basket of Fish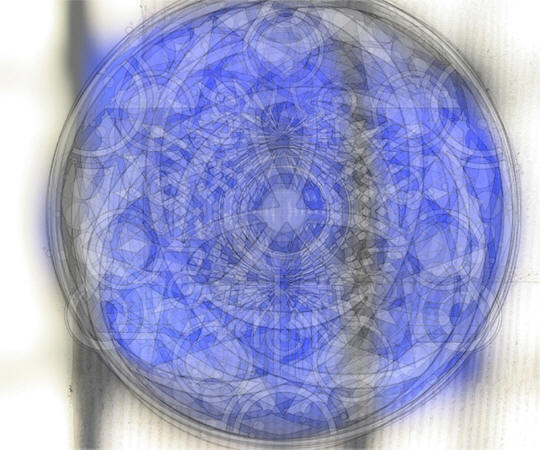 Ansuman Biswas worked in Portsmouth Cathedral.

Comments from Portsmouth Cathedral: I believe that the whole of the Six Sacred Sites project contributed greatly to increased understanding between those of different communities and faith groups." "The artist who worked with us was himself from a Hindu background, and his involvement with us gave a fascinating insight into the interaction between the two cultures." "The interaction and degree of interest between the participating faiths was remarkable, and individuals have continued to refer to the event many months later."

Project: Portsmouth Cathedral being steeped in maritime tradition, contains numerous images of fish and sailors. Biswas responded to the Cathedral in a contemplation of the resonances between The Book, the building, and the net - all able to catch only partial, hard-edged glimpses of what is essentially ambiguous and evanescent. With the notion of architecture as 'calligraphy on the page of the earth' Biswas traced, in poetry, the birth and growth of man-made 'earth calligraphy' from watery beginnings to permanent structures. Printed on acetate and interspersed with crop-circle-styled drawings, reading the poetry is difficult. 'The Word is to be heard and lived rather than to be enshrined in a book', says Biswas.

The stains of light on the grass are blueprints
for the heaped stones I found last night,
gathered at the wind's instruction,
and accumulated here in circles and lines.
I am the first, I think, to gather to me
the bodies of the billion dead
who came before and secreted themselves
into water and earth and stone.
And with their sacrifice now I mark
the geometry of our sojourn.

Biswas's artwork was one of six artists' books produced for the Art and Sacred Places Six Sacred Sites project in collaboration with 'aspex' gallery, Portsmouth, 'The Winchester Gallery' and 'Hampshire Sculpture Trust'. The project was designed to explore the range of ways in which a location may be regarded as sacred and to reflect on the enduring power and significance of the notion of sacredness in our society.

Six Sacred Sites exhibitions and events included:

23rd September to 16th October, 2006 - Basingstoke Hindu Society, Carnival Hall
28th October to 19th November, 2006 - Portsmouth Anglican Cathedral
19th November, 2006 - RoadPeace Service for World Day of Remembrance for Road Traffic Victims
8th January, 2007 - South Wonston Primary School
13th January to 17th February, 2007 - Rope Store Gallery, Quay Arts, Newport, Isle of Wight - Meeting Place of the Newport Quaker group
23rd February to 18th March, 2007 - Aspex Gallery, Vulcan Building, Gunwharf Quays, Portsmouth
6th July to 2nd August, 2007 - The Winchester Gallery
13th July 2007 - Artists' Book Symposium with UWE and Winchester School of Art

Project funders and supporters: Arts Council England SE, Hampshire County Council, Basingstoke and Deane Borough Council, Portsmouth City Council, Winchester City Council, aspex gallery, University of Southampton.