Contact:
Registered Charity No: 1157364

Daniel Coombs - Untitled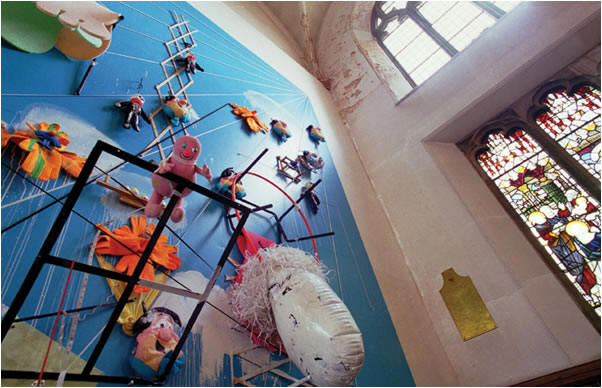 Daniel Coombs responded to St Peter's Church, Brighton.

Daniel Coombs makes installations which cross the boundaries between painting and sculpture. Taking ideas from cinema, cartoons and diagrams, Coombs incorporates objects onto a painted canvas or wall, arranging them into lively pathways and constellations.

Faith and notions of spirituality are increasingly impressed upon us from new and diverse origins often filtered through our television sets. Hence Coombs's salvaging of materials perhaps reflects the tendencies of modern media to pillage philosophy (both secular and religious) resulting in a rich and culturally diverse approach to spiritual ideas. By meticulously arranging what would seem to be random items, Coombs creates a series of poignant gestures which reference both past and present notions of religion. These everyday temporal items are imbued with biblical folklore. Spirituality from beyond the walls of the Church is explored.

Coombs uses the objects in his installations to tell stories for the viewer to interpret as she wishes. The artist produces associations through the combination of seemingly useless and banal objects. The surfaces of Coombs's 'assemblage paintings' are garish, almost claustrophobic, presenting a myriad of visual puns, each one leading in a different direction.

Daniel Coombs's work, together with Duncan Whitley's work Chimes was exhibited at St Peter's Church, Brigthon from 1st to 25th November 2000

Coombs's work was part of the Art 2000 Projects in Sacred Places where five artists were curator selected, in collaboration with the venues, to make new works for five major churches in the south of England. This selection process was important because it reflected Art and Sacred Place's (then known as Art 2000) desire to build a new partnership between the church and artists and, in doing so, to match the best contemporary standards and practice for art events.

The Catalogue for Art 2000 Projects in Sacred Places, containing text contributions by Saacha Craddock and Father Friedhelm Mennekes is available from Art and Sacred Places

Project funders and supporters included: The Arts Council, The Jerwood Charitable Foundation, The Jerusalem Trust, The National Lottery Millennium Festival Fund, Southern Arts, South East Arts, Wickes, Dulux, Integra Builders and Austin Cradles.