forma: Bernadita Croxato - Emma Dixon - Kimvi Nguyen - Andrea Willette
The Companion of Space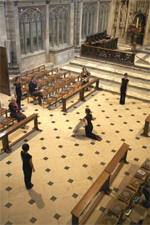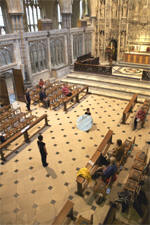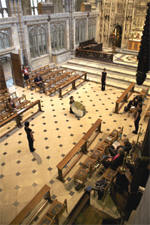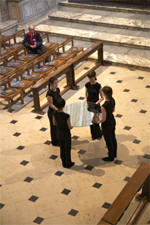 Winchester Cathedral 2011: Photos - Andrew Reaney

Emerging artists forma: Bernadita Croxatto, Emma Dixon, Kimvi Nguyen and Andrea Willette performed:

'The Companion of Space' in Winchester Cathedral Quire

on Wednesday 2nd November 2011 from 14.00 to 16.00

Comments: "The performance had a hypnotic effect - very powerful - beautiful movements. It reminded me of Anish Kapoor's work" "A really great experience." "A wonderful atmosphere of stillness."

Artwork: The 'Companion of Space' was created especially for Winchester Cathedral in response to both the years of hard work and dedication that people have put into its construction and to the rhythm and symbolism of the ceremonies that happen in the intimacy of the Quire. Four women represented four directions: connected at the centre where their four paths crossed. In that centre was a circular mirror which reflected the interior of the Quire, revering the sacred space. The four performers serenely moved: tilting and altering the reflection in the mirror, which in turn cast a gentle ellipse of reflected light around the tranquil space.

The Artists: The artists are an international performance collective who met whilst studying at Winchester School of Art in 2010. Their work is unified through a sensitivity to space, material and trust. They build objects as an extension of the body and use the body as an element to recompose space. They think of the performance as a site of meditation and contemplation; as a ceremony to engage with the present time and space. 'The Companion of Space' is the fourth in a series of performances created by the collective.

This event formed part of '10 Days Across the City', a new collaborative festival to map a creative identity for the international City of Winchester which took place from 28th October to 6th November 2011, see 10 Days Winchester for the full programme.